Sprott Radio Podcast
Silver is Everywhere
Friday, 05 November 2021 | 9 | 17:18
Shownotes
Host Ed Coyne is joined by Michael DiRienzo from The Silver Institute for a broad-ranging discussion on silver in our modern economy. The white metal's unique status as both a store of value and an industrial metal has always made it a compelling investment, and with its new applications in advanced technologies, the story is even more fascinating.
---
Podcast Transcript
Ed Coyne: Welcome to Season 1, Episode #9 of Sprott Gold Talk Radio. I'm your host, Ed Coyne, senior managing director at Sprott Asset Management. I am pleased to be joined today by Mike DiRienzio from The Silver Institute, which then dedicates its time and efforts to serve as the industry's voice and increase public understanding of silver's many uses and values. Hello, Mike, and thank you for joining us on Sprott Gold Talk Radio.
Mike DiRienzio: Thank you. It is absolutely a pleasure to be here with you today.
Ed Coyne: We're happy to have you. Mike, before we dive into all things Silver, it would be helpful to hear a bit about yourself and the work you do at the Silver Institute, which I understand is celebrating its 50th year anniversary.
Mike DiRienzio: That's exactly right, Ed. 50 years. When the Institute began 50 years ago, it was more of a technical resource for miners, refiners, and many end users. And they did a lot of special small reports on such things as photography, which was big at the time in terms of silver use, braising and alloys and so forth. Over the years, the Institute has developed into a market development association. Our members include mining companies, refiners, wholesalers of silver investment products, transporters, bullion suppliers, etc.
That's what we do. One of our main missions at the Institute is to encourage the development and report on the uses of silver and silver-based products. We like to help to try and develop markets for silver and its products. We do that in a variety of ways. And one of the more important things we do is collect and publish statistics and other information about the production, distribution, marketing, consumption and use of silver and silver-based products.
Ed Coyne: That's fantastic. It's much needed as every year as the world expands, the interest level for silver continues to grow, and we're coming up on the last few months of 2021. Everyone knows that a lot has happened over the past couple of years. Silver has been on the front page many days in social media and newspapers and at Sprott, we tend to focus mostly on the investment merits of silver. But in reading many of the papers that the Silver Institute has put out, you go much further than that.
As you mentioned, you talk about silver in many different ways and work with mining companies, refining companies and so forth. Would you please hit some of the things that have happened of note to silver over the last couple of years? More specifically, how is silver changing in the modern market today?
Mike DiRienzio: That's a great question and we are looking at a different dynamic in the silver market today. We have recognized that silver is now a green and a techno metal and I'll get into that a little more specifically. The optimism for silver prospects as a green energy demand center remains very strong. Its role as a decarbonization metal, for example, includes a combination of global efforts to reduce fossil fuel reliance, legislation to lower carbon emissions and favorable tax government policies. We believe this will result in a continued expansion of silver's use in solar panels and their installations across the world and silver's incorporation into this whole new wave of techno automobiles with respect to battery electric vehicles.
Take solar panels, for example, and look at the State of California, which has mandated that new residential homes be built with solar electricity systems. This is a win-win for silver. Silver, as you know, is included in most photovoltaic installations and we think this will bode very well. We're projecting that about 105,000,000 ounces of silver will be going into solar panels this year. That is about a 4 million ounce increase over last year. In terms of automobiles, let's face it, countries worldwide are mandating that they get off the internal combustion engine.
Earlier this year, we put out a report on silver's use in automobiles [read Silver's Growing Role in the Automative Industry]. We think that even given some of the supply chain issues with respect to chips, silver's use and automobiles will be very strong this year, about 64-65 million ounces, and it'll grow to about 80 million ounces by 2025.
Ed Coyne: Silver is definitely at the forefront of carbon-neutral initiatives. You hear a lot about by 2050, we're going to be carbon neutral and God willing, you and I are still around to see it. I'm in my early 50s, and I suspect I will, but it's going to be tough sledding. We'll see how it goes. One of the things that always comes up when I talk to people about precious metals, in general, is that they always ask you this number one question: what did the market do today in the precious metals world?
I always get questions about the gold-to-silver ratio, and that's a ratio that's been long established over time. But it's also had some wild swings over the years.  At the Silver Institute, how do you look at that? What does the gold-to-silver ratio mean to you when you're looking at silver as a metal?
Mike DiRienzio: We're an all-encompassing organization, focusing on silver investment, silver jewelry, supply-demand and so forth. We get that question about the gold-to-silver ratio a lot.  I like to tell people who call in with that question that we know what it is while we don't actively track it. It's about 75 today. It's included in some of our investment reports, including our World Silver Survey 2021. It will be a subject of conversation when we do our interim review on the market next month. We don't track the ratio daily, but we're keenly aware of the number itself.
Ed Coyne: For those that aren't familiar with it, the gold-to-silver ratio is how many ounces of silver it would take to buy an ounce of gold. While it's relevant, at some level, it may lose its importance as silver becomes more of a green and techno-type metal. At Sprott, we like to say that gold is the original alternative investment and may serve as an effective hedge in a diversified portfolio. On the other hand, we've used silver as a traditional commodity or a consumer metal. But as silver becomes more modern and is used in more consumer products and services, whether it's solar or even 5G and cell towers and so forth, how are you viewing that today?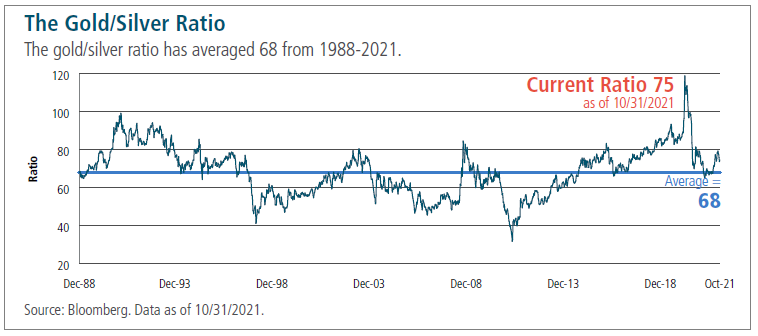 Mike DiRienzio: We like to say that silver essentially surrounds us all, and the odds are very good that if it has an on-off switch, silver is contained in that product. It can be anything from automobiles, cell phones, mobile phones, computers, etc. We mention solar panels, modern televisions, as well as the many medical uses that silver has. The white metal is essentially everywhere. We do individual reports. Last year, we started a series called Market Trend Reports. We've reported on silver's role in autos, silver in printed and flexible technologies, 5G and silver, silver and solar energy.
And of course, our most recent report was Silver and Global Connectivity. We see that these various components of the overall market need to be addressed in a more granular way. That's why we've launched a series of reports on various aspects of silver's use.
Ed Coyne: It's going to be a report that's probably as thick as a phone book for those that remember phone books. But it might be easier to do an article or a paper on what silver is not used for, rather than what silver is used for.
Mike DiRienzio: Absolutely.
 Ed Coyne: That's something. I like what you said: silver surrounds all of us. If it has an on-off switch, silver is probably involved. In September, you published the report Silver and Global Connectivity. If you would hit us with a couple of report highlights, that might be useful for people.
Mike DiRienzio: Great question and that's one of the reasons why we did this report. We believe that the next generation of technological advancements, especially those that rely on global connectivity, will rely on silver's inherent properties as the best conductor of electricity in terms of a metal throughout the 21st century. When you look at the world becoming more connected through billions of physical devices, silver is playing an important role in connecting these devices. When you look at global markets and communications and the boosting of productivity, reducing waste and inefficiencies, strengthening supply chains, which is a major issue today, and of course, greater automation, which hopefully will lead to greater economic activity, silver is playing a role.
Each application will require various sensors and contacts. All of those will include silver, and this could be for the communications, for the tracking and monitoring of devices, to simple items like turning on your heat when you're in your car or turning on your alarm system while you're at home using your phone or your iPad. We think this will be a major boost for silver in the future, and it will, of course, add to silver's very important role in the electrical and electronic sector through the 21st century.
Ed Coyne: That's a great point. I want to shift gears because we're talking about the many positives for silver. But silver mining tends to get painted at times with a negative environmental brush. There's no getting around it. We do have to dig holes in the ground to pull out the ore. But with the rise of ESG, which is environment, social and governance, or sustainable investing in general, what would you say to investors who are environmentally focused with their portfolios? What role does silver play in a world of rising ESG mandates? Will there be stumbling blocks as we move forward?
Mike DiRienzio: That, too, is something that we are addressing. In 2020, we released our Silver Sustainability Initiative. It talks to the various issues our member mining companies are doing in their localities, many of which are not in the United States. Some are in Canada, but many are in other regions, including Peru, South America, Mexico, Europe, Australia, etc. We take this issue very seriously.
For the bulk of 2021, our Sustainability Committee has been working on an ESG carbon footprint study. We are essentially trying to assess a specific number for silver's carbon footprint by going through our members' operations. It's difficult for silver. It's much easier for a metal like gold, because, as you know well, only 30% of mined silver comes from a primary silver mine. We're working with some outside consultants and hope to have a report by the end of this year. If not, it'll be early 2022.
Ed Coyne: That's fantastic. Lastly, at Sprott we aim to advise investors on the many precious metals solutions available as they look to construct balanced portfolios. From a pure investment standpoint, how can investors participate today in the silver market?
Mike DiRienzio: Silver has been a safe and sound investment for centuries, over 6000 years, and we think that investors of all stripes should gain some exposure to silver. Its intrinsic value persists even today, and it has earned a place in an individual's portfolio. People can now put silver and gold into their IRA accounts in the United States, provided they maintain a certain purity, 99.9% fine silver, and a third-party custodian must store it. But the opportunities to acquire silver are endless. We see a growing silver price in 2021.
When you look at the average price of $20.55 for 2020, the average price today is $25.51, so that's a good increase of $5 in any given year in a thin market. We think that silver's value has been proven as a precious metal and a time-tested commodity. If anybody wants information on investing in silver, the various ways to acquire silver, please go to our website at silverinstitute.org, where we have a nice section on silver investment.
Ed Coyne: That's spot on. The Silver institute does a tremendous job highlighting different areas. Mike, we appreciate you joining us on Sprott Gold Talk Radio today. For our listeners who would like to learn more about Mike and his work at the Silver Institute, we encourage you to visit The Silver Institute and check out one of the many topics on silver.
I'm your host, Ed Coyne, and thank you for listening.
About The Silver Institute
The Silver Institute is a nonprofit international association that draws its membership from across the breadth of the silver industry. This includes leading silver mining houses, refiners, bullion suppliers, manufacturers of silver products and wholesalers of silver investment products. Established in 1971, the Institute serves as the industry's voice in increasing public understanding of silver's many uses and values. Visit The Silver Institute.
---
This podcast is provided for information purposes only from sources believed to be reliable. However, Sprott does not warrant its completeness or accuracy. Any opinions and estimates constitute our judgment as of the date of this material and are subject to change without notice. Past performance is not indicative of future results. This communication is not intended as an offer or solicitation for the purchase or sale of any financial instrument.
Any opinions and recommendations herein do not take into account individual client circumstances, objectives, or needs and are not intended as recommendations of particular securities, financial instruments, or strategies. You must make your own independent decisions regarding any securities, financial instruments or strategies mentioned or related to the information herein.
This communication may not be redistributed or retransmitted, in whole or in part, or in any form or manner, without the express written consent of Sprott. Any unauthorized use or disclosure is prohibited. Receipt and review of this information constitute your agreement not to redistribute or retransmit the contents and information contained in this communication without first obtaining express permission from an authorized officer of Sprott.
©Copyright 2022 Sprott All rights reserved