A new uranium bull market is underway. Uranium miners are well positioned to take share within the energy sector as energy security and decarbonization take center stage globally. A uranium supply deficit is looming on the horizon, and uranium miners are likely to be the beneficiaries of increased investment. Learn more from our webcast replay.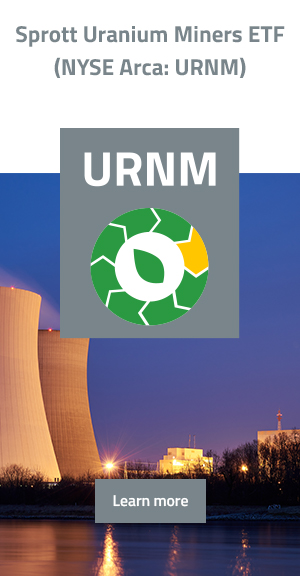 Physical Bullion Trusts
Sprott's unique exchange-listed physical bullion trusts give investors a better way to own physical precious metals.
Invest in Precious Metals
Physical Commodity Funds
The Sprott Physical Uranium Trust (U) invests and holds substantially all of its assets in uranium in the form of U3O8.
Learn More
Active Equity Strategies
Sprott's team of precious metals and natural resources investment professionals provide active portfolio management for both institutional and individual investors.
Research Our Strategies
Sprott ETFs
Sprott ETFs provide investors with access to innovative and unique indexes.
Invest in ETFs
Resource Financing
Sprott is a key provider of financing and advisory services to mining and natural resource companies, at all stages of development, from exploration through production.
Looking for Capital?
New & Noteworthy
Early Innings for Uranium Investments
May 12, 2022
A new uranium bull market is underway. Energy security and decarbonization are taking center stage globally, igniting a fresh and more rational look at the benefits of nuclear power. 
April Pressures Risk Assets
May 3, 2022
Gold lost 2.09% in April, a month marked by across-the-board outflows in many asset classes as volatility surged. By contrast, gold held in ETFs has increased sharply this year as the safe-haven flight continues.
Uncovering the World of Uranium
April 25, 2022
Host Ed Coyne is joined by Tim Rotolo, co-creator of the North Shore Global Uranium Mining Index (URNMX), to discuss the current dynamics of the uranium mining sector and how the Index is constructed to provide exposure to the key components of the uranium mining industry.
Video: NYSE with CEO John Ciampaglia on URNM
May 5, 2022
Douglas Yones, NYSE Head of Exchange Traded Products, interviews John Ciampaglia, Chief Executive Officer, Sprott Asset Management, on the recent launch of Sprott Uranium Miners ETF (URNM). 
Press Releases
Webcasts
5/6/2022
Sprott Inc. Q1 2022 Earnings Conference Call