A Global Leader in Precious Metals and Energy Transition Investments
Sprott was founded in 1981 by Eric Sprott, an early champion of precious metals investing. We have grown steadily over the past four decades, broadening our investment strategies while remaining focused on our core strengths. Today, Sprott is a global asset manager providing more than 250,000 clients with access to precious metals and energy transition investment strategies. We serve our global client base from offices in Toronto, New York and Connecticut.
Investment Strategies
We are specialists. Our knowledge, experience and relationships separate us from our peers. Sprott's innovative investment strategies include: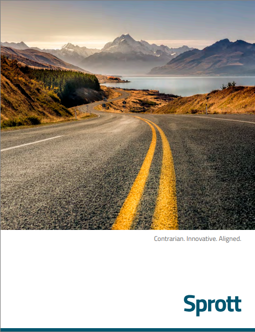 Sprott Inc. is a holding company made up of separate and distinct companies: Sprott Asset Management LP, Sprott Resource Lending Corp. and Sprott U.S. Holdings, Inc. Sprott Asset Management LP is registered as a portfolio manager in Ontario and as an investment fund manager in Ontario, Quebec, Newfoundland and Labrador and in the U.S. as an investment adviser; Sprott Resource Lending Corp. provides financing solutions to mining companies; and Sprott U.S. Holdings, Inc. comprises U.S. registered advisory and broker/dealer entities.