Sprott Radio Podcast
ESG GOLD with Agnico Eagle
Tuesday, 25 October 2022 | 18 | 13:25
Shownotes
Mohammed Ali from Agnico Eagle joins host Ed Coyne to discuss the firm's deep commitment to applying ESG principles to its mining operations and the communities in which it operates. Agnico Eagle is a Canadian-based gold mining company with operations in Canada, Australia, Finland and Mexico. Agnico is a recognized ESG leader in the mining sector, and is a winner of the Environmental Excellence and Community Engagement Awards for the Towards Sustainable Mining® (TSM) program of the Mining Association of Canada.
Podcast Transcript
Ed Coyne: Hello and welcome to Season 2, Episode #8 of Sprott Gold Talk Radio. I'm your host, Ed Coyne, Senior Manager Director of Sprott Asset Management. I'm excited to speak with Mohammed Ali, Vice President, Sustainability and Regulatory Affairs at Agnico Eagle today. Mohammed, thank you for joining Sprott Gold Talk Radio. Before we get into the ever-evolving standards of ESG [environmental, social and governance], please tell our listeners about Agnico Eagle and yourself.
Agnico Eagle's Commitment to ESG (Environmental, Social and Governance)
Mohammed Ali: I'll start with a little bit about Agnico Eagle. For those who don't know Agnico Eagle, It's a Canadian-based gold mining company with operations in Canada, Australia, Finland and Mexico. In 2021, we had gold production of over two million ounces, and we're expecting that level to rise to over three million ounces.
There are a couple of things that make Agnico different. We were established in 1957, so we've been around for over 65 years. We're proud of that because you cannot be operating that long if you don't have a reputation as a company known for its high standards. We employ over 16,000 people. However, that's just our direct employees. We touch beyond those 16,000, but I will discuss that later.
As a mining company that operates in various communities, we have primary, secondary and tertiary impacts that we make in those communities. We also go beyond operations into various philanthropic efforts because we provide critical community support in the towns where we operate.
We're committed to net zero. As you've probably heard, the commitment to net-zero emissions by 2050 is becoming not just a nice to have but a requirement. And we're no different. We've recognized the necessity of net zero, and we're making plans to achieve it.
Agnico Eagle is recognized for its leadership in ESG performance, and we work with independent research organizations like MSCI and RepRisk. Beyond that, we have TSM (Towards Sustainable Mining) efforts with the Mining Association of Canada.
Award Winning
We've won several awards and consistently rank high  as a global mining company, but we consider ourselves a regional mining company. When we go into a specific region to look at a mine, we look at the entire region. We try to have multiple mining assets in that area to leverage and build a community in a region. Agnico typically doesn't just go into an area with one mining asset and then rely solely on that location. Instead, we look for long-term assets with long-term value and develop long-term relationships with the community to become the partner of choice for other assets in that region. That's important because we wouldn't be successful if we weren't seen as regional miners. When you go into the communities where we have assets, for example, the Abitibi or Nunavut regions of Canada, the inhabitants see us as one of their local partners. We're proud of that.
Recently, we won the Mining Association of Canada's Towards Sustainable Mining (TSM) awards for environmental and community engagement excellence. Many mining companies go through the TSM standards, and for Agnico to be selected as the winner is a testament to our significant efforts with our mining sites.
Ed Coyne: Mohammed, for some, ESG is viewed as a fad or just another label to put on an investment product. But it's become so much more for both Sprott and Agnico Eagle. Can you guide our listeners through your firm's commitment to ESG?
A Partner in Helping Communities Develop and Thrive
Mohammed Ali: I mentioned that ESG is a core building block in Agnico Eagle's strategy and is ingrained in our operations. It's not lip service because we understand that our role as a mining company has always been one that touches the land. Historically, mining companies tend to get the reputation of exploiters of resources. However, we realize that to be in business for as long as we have, we're not exploiting resources but building communities. We're ingrained in each community and see ourselves as neighbors.
We also see ourselves as a partner in helping communities develop economically and to thrive. To that point, we consider ESG as an opportunity to drive improved performance. We develop benchmarks and metrics and use them to grow, to measure how we're doing and improving. There are qualitative and quantitative impacts, and we try to look at all those metrics to see how we can continue improving and win awards
Our sustainability, or ESG, principles are based on four pillars. These include engaging with people, pursuing innovation, identifying, eliminating, mitigating risks, and adapting to new realities. I'll touch on each of those, but before that, I wanted to mention that ESG is governed all the way from our executives to our boards, then to me and each mine site. We have different layers of sustainability, or ESG, integrated throughout the levels of the organization.
We integrate all the way down and up to the top because if ESG is not institutionalized throughout the company and it's not part of the culture, it falls short. It can then either become top heavy or too bottom heavy.
You need everybody on the same page, which is one of our strengths. We get very high rankings on the governance side, and it's probably what makes us very successful. The fact is that our CEO and our board commit to talking more about ESG than other topics because of our values — such as being a successful regional operator. We try to make a positive difference.
The positive difference comes when you have multiple assets in a region. Then, you can start leveraging the fact that you have a long-term view of outcomes and objectives. We're looking at long-term objectives like training programs because we aren't an asset that's just there for six years and then we leave. We're looking to determine how to build the local talent pool to foster long-term employment and capacity in those regions.
When it comes to indigenous communities this is one of the areas in which I include my kids. They know their dad is in the mining industry. Still, they don't realize that mining is one of the few sectors involved in direct reconciliation with indigenous communities.
Working Closely with Indigenous Communities
We're there on special lands and traditional territories. These communities rely on these mines not just for jobs but for procurement opportunities and as an enabler to grow their communities. There are various examples that I can discuss. During COVID in the Detour Lake Operation in Ontario,  we became more tele-remote. The children had to be in school, so we put in a 5G line from Cochrane, Ontario, all the way up to Detour. By doing that, all the communities along the way could get educated at home. It is hard to estimate the true value of these initiatives for indigenous communities.
We also continue to invest in the health and well-being of our communities. During COVID, in Nunavut, an isolated community, we made the conscious decision to say, you know what, we don't want to risk your community. We'll give you full pay. Stay at home. We're here for the long term, so stay healthy, take care of your families, and then we'll meet again when things get back to normal.
With regard to diversity, equity and inclusion, it is a fundamental core value within Agnico. We have various programs that we're working with to ensure that we continue to broaden diversity in multiple ways, from gender to ethnicity to diversity of thought. It's something that we take quite a lot of pride in.  
Innovation at a Higher Level
Innovation has always been part of many mining companies. However, what makes Agnico different, is our long-term view and assets, such as Detour Lake, one of the areas where you can get ethical gold. Detour Lake has a mine life of over 30 years, allowing us to work with innovation on a different temporal scale. It's not just looking at saving light bulbs and switching small equipment. You start looking into long-term planning of electrification. We want to start building things and create case studies for innovation that provide payback that we can replicate at other mines, such as renewable energy and advanced digitization. I think Agnico's commitment to innovation is on a whole new level because of our long-term assets.
Ed Coyne: Thank you, Mohammed. For Agnico Eagle, ESG is much more than a tagline. With your four pillars, you talked about: people, innovation, risk management and adaptation, Agnico seems truly committed to building out the four cornerstones. I thought it might be helpful if you could give an example to our listeners of how this works when a project comes together.
Mohammed Ali: This one is interesting and near and dear to my heart. Although Detour Lake is not closing for another 30 years, we have started progressive rehab and research on the mine site now, grabbing native vegetation and seeds and putting them through a greenhouse to see how the revegetation would look 30 years from now. We want to incorporate not just the ability to reclaim the area but are researching the best ways to do it so that we are not stuck in 2039 or 2040 trying to close the asset without any idea of the land. We're working with our indigenous partners on this as well. They know the land and see themselves as stewards of the land and so do we.
There's a really good alignment of what we're doing with some award-winning components, such as using drones for seeding on certain slopes. I can go on forever, but I think the stuff on managing the environment, communities and people is something we're very proud of. Having worked in various sectors and been a consultant before, I know that people assume the mining sector is yesterday's mining sector, but that's not the reality.The expectations of the mining industry are always changing. Typical mining engineering geologists deal with different grades, concepts and things at all times. Unlike any other industry, we're always ready for change. We are always adapting all the time. We adjust to new realities regarding our responsibility to mining, our indigenous communities, and the evolution of their capacity.
We've always been ahead of the curve in adapting to new realities. Climate change is a new reality. We are among the lowest greenhouse gas emitters. To give you some perspective on Agnico, the World Gold Council pegs the average gold miner's greenhouse gas intensity at about 1.00 and the S&P Global put it at 0.70. We're about 0.37 as a company. We've got various reduction programs, from energy efficiency to electrification and renewable energy projects. We're also working on a lot of research work that we're trying to use to help shape the mining industry moving forward. That's because we have the ability and leverage to work with the larger consortiums to start making some changes. We see that as a responsibility of ours.
Ed Coyne: That's a great example, Mohammed, and thank you. It certainly does seem that Agnico Eagle is fully committed to change and sustainability and applying ESG to its entire mining process. Once again, I'm your host Ed Coyne, and you're listening to Sprott Gold Talk Radio. Thank you for listening.
Sprott ESG Approved Mines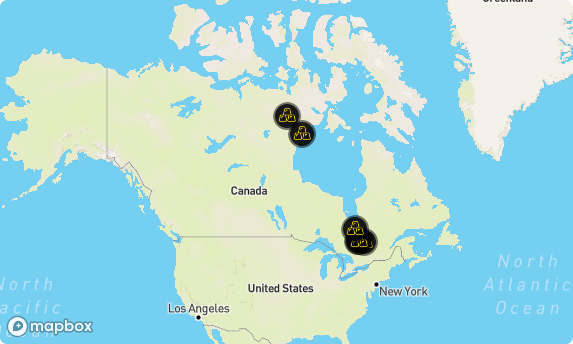 Photo Source: Agnico Eagle gold production at Meliadine. 
---
This podcast is provided for information purposes only from sources believed to be reliable. However, Sprott does not warrant its completeness or accuracy. Any opinions and estimates constitute our judgment as of the date of this material and are subject to change without notice. Past performance is not indicative of future results. This communication is not intended as an offer or solicitation for the purchase or sale of any financial instrument.
Any opinions and recommendations herein do not take into account individual client circumstances, objectives, or needs and are not intended as recommendations of particular securities, financial instruments, or strategies. You must make your own independent decisions regarding any securities, financial instruments or strategies mentioned or related to the information herein.
This communication may not be redistributed or retransmitted, in whole or in part, or in any form or manner, without the express written consent of Sprott. Any unauthorized use or disclosure is prohibited. Receipt and review of this information constitute your agreement not to redistribute or retransmit the contents and information contained in this communication without first obtaining express permission from an authorized officer of Sprott.
©Copyright 2023 Sprott All rights reserved
†The Trusts are closed-end funds established under the laws of the Province of Ontario in Canada. PHYS, PSLV, CEF and SPPP are available to U.S. investors by way of listings on the NYSE Arca pursuant to the U.S. Securities Exchange Act of 1934. The Trusts are not registered as investment companies under the U.S. Investment Company Act of 1940.
††SESG is a U.S. registered exchange traded fund established pursuant to the U.S. Securities Act of 1933 and is listed on the NYSE Arca.
Important Disclosures
This material must be preceded or accompanied by a prospectus. For an additional copy of the Sprott ESG Gold ETF Prospectus, please visit https://sprott.com/sesg/prospectus. An investor should consider the investment objectives, risks, charges and expenses carefully before investing. To obtain a Sprott ESG Gold ETF Statutory Prospectus, which contains this and other information, visit https://sprott.com/sesg/prospectus, or contact your financial professional or call 888.622.1813. Read the Prospectus carefully before investing.
There is currently no internationally accepted standard determining under what circumstances gold can be determined to be ESG. The Fund is not suitable for all investors. There are risks involved with investing in ETFs including the loss of money. The term "Sprott ESG Approved Gold" refers to gold that is physically indistinguishable from other gold but that has been sourced and produced in a manner consistent with the ESG standards and criteria used by the Sponsor (the "ESG Criteria"), which are designed to provide investors with an enhanced level of ESG scrutiny along with disclosure of the provenance of the metal sourced and include an evaluation of mining companies and mines. Mining companies and mines that meet the ESG Criteria ("Sprott ESG Approved Mining Companies" and "Sprott ESG Approved Mines", respectively) must also comply with the Mint Responsible Sourcing Requirements.
The Fund's investments will be concentrated in the gold industry. As a result, the Fund will be sensitive to changes in, and its performance will depend to a greater extent on, the overall condition of the gold industry. The price of gold may be affected by changes in inflation rates, interest rates, monetary policy, economic conditions, and political stability. The price of gold may fluctuate substantially over short periods of time; therefore, the Fund's share price may be more volatile than other types of investments. In addition, they may also be significantly affected by political and economic conditions in gold producing and consuming countries, and gold production levels and costs of production.
The indicated rates of return are the historical annual compounded total returns including changes in share value and reinvestment of all distributions and do not take into account sales, redemption, distribution or operational charges or income taxes payable by any shareholder that would have reduced returns. You will usually pay brokerage fees to your dealer if you purchase or sell shares of the Trusts on the NYSE Arca, Inc. ("Arca"). If the shares are purchased or sold on Arca, investors may pay more than the current net asset value when buying shares of the Trust and may receive less than the current net asset value when selling them. Investment funds are not guaranteed, their values change frequently and past performance may not be repeated.
Shares are not individually redeemable. Investors buy and sell shares of the Sprott ESG Gold ETF on a secondary market. Only market makers or "authorized participants" may trade directly with the Fund, typically in blocks of 50,000 shares. Past performance is not an indication of future results. 
Sprott Asset Management USA, Inc. is the Investment Adviser of Sprott ESG Gold ETF; Sprott Global Resource Investments Ltd. is the Distributor and is a registered broker-dealer and FINRA Member.