Time for Gold Equities to Shine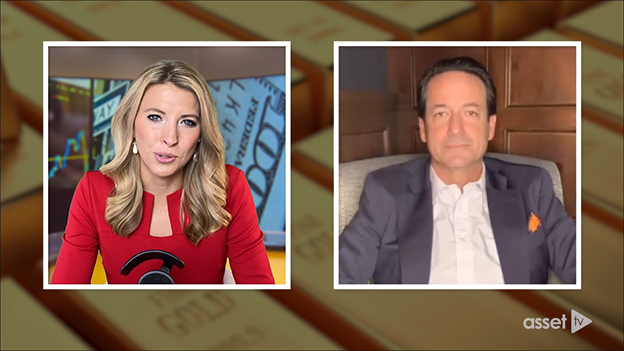 December 24, 2020 | (8 mins 12 secs)
Ed Coyne joins Asset TV for a deep dive into gold and gold equities. Coyne shares his 2021 outlook and sheds more light on gold equities and what makes the junior mining story so attractive.
Transcript
Jenna Dagenhart: Hello, welcome to Asset TV. Joining us now to look back on 2020 and share his outlook for what lies ahead in the new year for gold is Ed Coyne, senior managing director of global sales at Sprott Asset Management. Ed, let's start with a broad overview of 2020. Gold has had a strong year of performance.
Ed Coyne: It is interesting to note that in the early part of the year, all assets sold off including gold, but gold slowed down the settle off much sooner than equities, and we had a tremendous year in 2020. This was more an exaggerated version of what we've seen happening since 2015 when the Fed [U.S. Federal Reserve] attempted to tighten in the fourth quarter. From 2016 through 2019, gold was continuing to march forward for all the economic reasons that we know, including lower for longer rates, printing more U.S. dollars, quantitative easing, etc. All these things have allowed gold to continue to perform. What's happened with COVID is that it has just shined a brighter light on the gold story. All the reasons why gold has been working from an economic standpoint have now been multiplied by a factor of three to five. 
EC: We think the gold story will continue to look strong going into 2021. What's changed this year is the gold equity story has started to come alive. That's just because the price of gold has shown some stability and is continuing to march forward. The margin expansion, free cash flow, some of these companies are starting to pay higher dividends, whether it's a one-time payout or a new dividend payout policy. All of these things are starting to happen to the gold equity space now. Not only is gold looking attractive, but now gold mining equities are starting to shine as well. 
JD: Talk to us a little bit more about gold and gold equities' return patterns recently. 
EC: Sure. If you think about gold traditionally, gold has started to work its way into investing as a core asset over the last two decades. With the modern metal today offered in ETFs, closed-end funds, and mutual funds, gold has become much more accessible to investors. More investors have moved gold out of the commodity basket into the alternative asset basket. I say this all the time: "gold is the original alternative investment." That continues to play out. But what's changed is that not only has gold started to serve as a natural hedge to traditional stocks, but with lower for longer rates, gold is now becoming a replacement to bonds, or at least a complement of bonds, particularly for foreign investors. Gold is also becoming a complement to cash positions. Gold is now serving multiple roles as a natural, low-cost liquid hedge to an overall portfolio. 
EC: Now, the equity story has started to show up in more people's portfolios tactically. That's largely because these are stocks have become more attractive from a margin expansion standpoint. If you look at the overall cost of [gold] extraction, all-in sustaining costs [AISC], depending on if the mine is an open pit or closed pit, all-in sustaining costs are between $900 to $1,100 an ounce. With gold priced at $1,850 to $2,000 an ounce, regardless of where gold's trading right now from a volatility standpoint, many of these mining companies are very profitable. 
EC: We saw a lot of M&A [mergers and acquisitions] activity over the last couple of years among the senior miners. Most of those companies were acquired at fair market values, so there weren't premiums paid. But now we're starting to see a new wave of M&A on the junior side. We think the junior mining space, in particular, looks very attractive the next couple of years. We see a gradual shift, not just to the physical gold market but also to the equity market because these companies have better operations and healthier balance sheets. They have margin expansion, free cash flow, and all the things a value investor would want to find in a company. 
JD: Spending a little bit more time on the junior mining story, what makes a junior so attractive? 
EC: You can approach it in the same way that you view the S&P 500 versus the Russell 2000. But most investors don't think about senior miners and junior miners and what that means. Senior miners are typically established companies. They've had multiple decades of experience, in many cases, of production. They have multiple assets. And what happens in the mining space, as you mine a particular asset, whether it's gold, silver, copper, whatever the metal is, you're depleting those reserves, and you will eventually need to replace them. Bigger always isn't better when you're talking about the mining space. In the junior space, many of these companies are either in the late-stage development or early-stage production phases. They have a much longer runway, but they don't as much capital. What we see happening now is larger-cap mining companies looking around the room and saying, "Our reserves in 2011 were about 16 years, and now they're down to about nine or 10 years. It's going to be cheaper and more effective for us to buy an existing asset than it is to discover and build a new mine." 
EC: We think the junior miners have two ways to win. The first is margin expansion. As I said, the price of gold is sitting at around $1,850 right now, and we think it is likely to go higher over the next couple of years. Second, from an M&A standpoint, these are very valuable assets. They're already in production or late-stage development and about to go into production. There's a significant opportunity for the juniors to do well from a pure margin expansion standpoint and from an M&A standpoint over the coming year. We think the opportunity lies among the juniors, and the market's starting to pay attention to this. 
The more junior space is starting to gain the attention of more and more investors as they look to allocate to the miners and complement their overall portfolio today, both from a defensive standpoint with physical gold, and from an opportunistic standpoint from a gold mining equities standpoint. 
JD: Finally, Ed, what's the one thing you would leave us with as we head into the new year? What's different now? 
EC: Sure. I think the biggest difference today is what I just mentioned about the equity space. Gold has done a nice job, really, in the last two decades. If you look at the performance patterns of gold over the last two decades, it's been one of the best performing assets out there. Gold has certainly established itself as a true alternative asset. What's different is the equity space. We don't always talk about equities. Gold, we would say, is an evergreen asset. You want to own gold as a natural hedge in your portfolio, particularly for rebalancing it. But there are times you want to own equities and there are times when you don't. 
EC: We believe are the next three to five years we're moving into a part of the market where you want to be thinking about gold mining equities. For those that want to be opportunistic about the allocation, focus your time and energy on the junior space in particular. We think that's where the greatest opportunities are going to be. And that's what's different. Looking to 2021, gold doesn't have to go back above $2,000, like many people are calling for. It can simply stay where it is today. The miners will continue to do well. Their margins will continue to expand. Their cash flow will continue to grow. Many will start paying dividends. The mining space looks very attractive today. Going into 2021, for those looking for a risk-on trade, don't overlook the miners. The miners are very attractive today. 
JD: Ed, always great to have you. Thank you so much for joining us. 
EC: Yes, thanks for having me. 
JD: And thank you for watching. That was Ed Coyne, senior managing director of global sales at Sprott Asset Management. We often talk a lot about the physical side of gold, so it was really interesting to hear more about gold equities and that junior mining story heading into 2021. I'm Jenna Dagenhart with Asset TV.
Sign-Up Now: 
Insights from Sprott
More on Gold
Important Disclosure
Past performance is no guarantee of future results. You cannot invest directly in an index. Investments, commentary and statements are that of the author and may not be reflective of investments and commentary in other strategies managed by Sprott Asset Management USA, Inc., Sprott Asset Management LP, Sprott Inc., or any other Sprott entity or affiliate. Opinions expressed in this commentary are those of the author and may vary widely from opinions of other Sprott affiliated Portfolio Managers or investment professionals.
This content may not be reproduced in any form, or referred to in any other publication, without acknowledgment that it was produced by Sprott Asset Management LP and a reference to sprott.com. The opinions, estimates and projections ("information") contained within this content are solely those of Sprott Asset Management LP ("SAM LP") and are subject to change without notice. SAM LP makes every effort to ensure that the information has been derived from sources believed to be reliable and accurate. However, SAM LP assumes no responsibility for any losses or damages, whether direct or indirect, which arise out of the use of this information. SAM LP is not under any obligation to update or keep current the information contained herein. The information should not be regarded by recipients as a substitute for the exercise of their own judgment. Please contact your own personal advisor on your particular circumstances. Views expressed regarding a particular company, security, industry or market sector should not be considered an indication of trading intent of any investment funds managed by Sprott Asset Management LP. These views are not to be considered as investment advice nor should they be considered a recommendation to buy or sell. SAM LP and/or its affiliates may collectively beneficially own/control 1% or more of any class of the equity securities of the issuers mentioned in this report. SAM LP and/or its affiliates may hold short position in any class of the equity securities of the issuers mentioned in this report. During the preceding 12 months, SAM LP and/or its affiliates may have received remuneration other than normal course investment advisory or trade execution services from the issuers mentioned in this report.
The information contained herein does not constitute an offer or solicitation to anyone in the United States or in any other jurisdiction in which such an offer or solicitation is not authorized or to any person to whom it is unlawful to make such an offer or solicitation. Prospective investors who are not resident in Canada or the United States should contact their financial advisor to determine whether securities of the Funds may be lawfully sold in their jurisdiction.
The information provided is general in nature and is provided with the understanding that it may not be relied upon as, nor considered to be, the rendering or tax, legal, accounting or professional advice. Readers should consult with their own accountants and/or lawyers for advice on their specific circumstances before taking any action.
© 2023 Sprott Inc. All rights reserved.