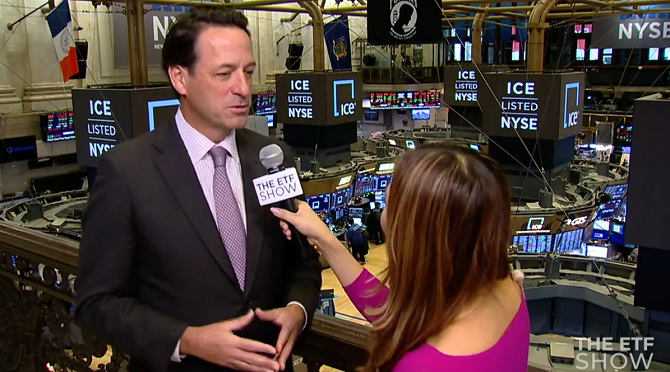 Remy Blaire of The ETF Show interviews Ed Coyne, Senior Managing Director of National Sales at Sprott Asset Management, and gets Coyne's insight into Sprott's outlook for gold bullion, gold equities and how ESG impacts miners.
Video Transcript
REMY BLAIRE: 2019 is turning out to be a stellar year for many asset classes. In a late cycle environment, the outlook for gold tends to shine bright. Ed Coyne of Sprott Asset Management joined me to talk about the outlook for the precious metal and also to take a closer look at senior and junior miners. Ed also weighed in on the ESG considerations when it comes to gold.
Momentum among Gold Miners
 ED COYNE: The last couple of years have been dominated by the large-cap story, or a senior mining story, where senior names were buying other senior names mostly at fair market value. There weren't huge premiums being paid for those companies. If you take it even a step further, these deals via stock transactions. There was not much cash changing hands. That was the first phase of what we thought was a prolonged bull market, not only in physical gold but gold equities.
More recently, we've seen a couple of transactions where larger-cap companies are starting to acquire mid- to smaller-cap companies. There's no secret that many of the large-cap gold mining companies are running out of gold reserves, and they need to replace those assets. They can either do it through new discovery and development or via acquisitions. It's much cheaper to acquire an existing mine than it is to discover and build a new gold mine.
What we see now is that the market is starting to move down cap into the mid- to small-cap space. We're very encouraged by this because the most recent transactions have not been purely for stock. They've been for stock and cash, and more importantly, they're now at premiums. One of the most recent deals involved a 25% premium. We think we're in the early stages of large-cap miners trying to acquire smaller-cap names. From an M&A standpoint, we believe that significant value creation can happen in the next couple of years, particularly in the junior mining space.
Gold Mining and ESG (Environmental, Social, and Governance)
 ED COYNE: When people think of gold, in particular gold equities, they think that building a mine is simply digging a hole in the ground, and from an environmental standpoint, you're doing a lot of damage to the environment. But what's interesting is that most people don't appreciate how gold mining companies can significantly benefit regions that typically don't have tremendous employment opportunities and economically are very difficult places to live, particularly in the developing world.  
Developing a precious metal mine requires the building of infrastructure that can greatly benefit the local population, including providing transportation, electricity, water, schools and hospitals, depending on the scope of the mining project.
What's interesting about ESG and the mining sector, is that the social component is quite active and very supportive of improving the quality of life for the local people in that particular part of the world. The environmental side dictates that mining companies behave responsibly, and this has been improving dramatically for several decades. From a governance standpoint, you cannot be a successful mining company without putting ESG at the forefront of your policies.
Important Disclosure
Past performance is no guarantee of future results. You cannot invest directly in an index. Investments, commentary and statements are that of the author and may not be reflective of investments and commentary in other strategies managed by Sprott Asset Management USA, Inc., Sprott Asset Management LP, Sprott Inc., or any other Sprott entity or affiliate. Opinions expressed in this commentary are those of the author and may vary widely from opinions of other Sprott affiliated Portfolio Managers or investment professionals.
This content may not be reproduced in any form, or referred to in any other publication, without acknowledgment that it was produced by Sprott Asset Management LP and a reference to sprott.com. The opinions, estimates and projections ("information") contained within this content are solely those of Sprott Asset Management LP ("SAM LP") and are subject to change without notice. SAM LP makes every effort to ensure that the information has been derived from sources believed to be reliable and accurate. However, SAM LP assumes no responsibility for any losses or damages, whether direct or indirect, which arise out of the use of this information. SAM LP is not under any obligation to update or keep current the information contained herein. The information should not be regarded by recipients as a substitute for the exercise of their own judgment. Please contact your own personal advisor on your particular circumstances. Views expressed regarding a particular company, security, industry or market sector should not be considered an indication of trading intent of any investment funds managed by Sprott Asset Management LP. These views are not to be considered as investment advice nor should they be considered a recommendation to buy or sell. SAM LP and/or its affiliates may collectively beneficially own/control 1% or more of any class of the equity securities of the issuers mentioned in this report. SAM LP and/or its affiliates may hold short position in any class of the equity securities of the issuers mentioned in this report. During the preceding 12 months, SAM LP and/or its affiliates may have received remuneration other than normal course investment advisory or trade execution services from the issuers mentioned in this report.
The information contained herein does not constitute an offer or solicitation to anyone in the United States or in any other jurisdiction in which such an offer or solicitation is not authorized or to any person to whom it is unlawful to make such an offer or solicitation. Prospective investors who are not resident in Canada or the United States should contact their financial advisor to determine whether securities of the Funds may be lawfully sold in their jurisdiction.
The information provided is general in nature and is provided with the understanding that it may not be relied upon as, nor considered to be, the rendering or tax, legal, accounting or professional advice. Readers should consult with their own accountants and/or lawyers for advice on their specific circumstances before taking any action.
© 2023 Sprott Inc. All rights reserved.