BNN Bloomberg with Sprott CEO Whitney George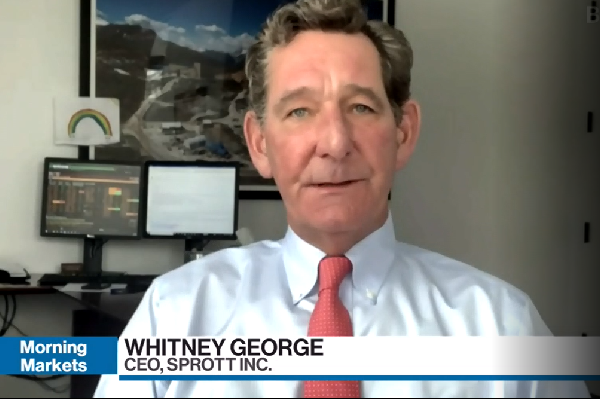 Sprott CEO Whitney George joins BNN Bloomberg to discuss the company's newer focus on energy transition materials, which we began in mid-2021 with the launch of Sprott Physical Uranium Trust.
Video Transcript
Amber Kanwar, BNN: Let's check in on shares of Sprott following quarterly results that saw a drop in sales and profit. The company is continuing to shift its focus toward wealth management and asset management in general. Whitney George is the CEO of Sprott and joins us now. Whitney, thank you so much for being with us. I think we can get lost in the quarterly results, but the real story of what Sprott is going through is the final shift toward asset management and launching new products, new ETFs. Can you tell us how you are progressing against that strategy?
Whitney George, Sprott: Thank you. Great to be here this morning. I think we are progressing very nicely. I feel proud that we grew assets under management (AUM) and earnings in a year like last year. We were happy with the results. I guess I said something wrong on the call because the stock didn't react very well. I think we are there in terms of transforming Sprott into what it wants to be when it grows up. We have made a bunch of acquisitions. We have entered a whole new space in addition to our traditional precious metals focus, which is energy transition materials that began about a year and a half ago with the creation of the Sprott Physical Uranium Trust when we bought a corporation and converted it into one of our trusts, and that led us into the energy transition space. We have a lot of talented people with a lot of expertise in mining and we think we are very well equipped to offer investors solutions in what we believe will be a very large and important theme in the next 10 years.
Amber Kanwar: As part of that, you are selling the Canadian broker-dealer business. What went into that decision and why was it important not to have that and to be laser focused on growing the assets? 
Whitney George: It's a nice business and it is one that was built back in 2016 when we were still trying to figure out our direction. It's a small business for us. It does serve a different client base than our investors. I think it will do very well, but it was not a large part of Sprott and has a separate set of regulators and a different kind of accounting. It's not a business that we thought would scale the way we can our physical trusts and some other divisions and we thought it was important to remain laser focused on being an asset manager, which is a business with lots of operating leverage without the financial leverage.
Amber Kanwar: You've got the bread and butter, as you mentioned, with gold and silver; your platinum and palladium plays. Let's discuss Sprott's physical uranium trust. How does that work? Why approach it that way and what do you see as the sector tailwinds as more and more people look to nuclear as an energy source.
Whitney George: Our physical trusts are unique products that were created after the global financial crisis (GFC) when people became concerned about counterparty risk. Clearly, that fear has been heightened by the Ukraine crisis and today it's a matter of not just-in-time inventory, but just-in-case inventory. The world did wake up. We were fortunate in our timing. We didn't know that the world would wake up and understand the cost of decarbonization and the benefits of nuclear power. We have been working on this transaction starting three and a half years ago. It just so happens that you look smart in your timing, but it's just good luck. Sprott Physical Uranium Trust holds physical barrels of yellow cake uranium stored in secure facilities around the world. We have created a vehicle that gives some transparency into the spot pricing of the uranium market. As demand continues to exceed annual production, we think there will be a repricing over the next few years as more nuclear power plants are built and the lives of existing plants are extended. For a business that's been considered a dirty business for the last 40 years, people are beginning to understand the benefits and safety of having a secure, constant power supply to offset the intermittent energy provided by renewables, like solar or wind.
Amber Kanwar: Why the need to physically hold uranium? I get gold, as it's a store of value, it's a precious metal, but uranium is productive. You have to use uranium, so why would an investor want to hold it versus owning Cameco or something that is putting uranium to work and benefiting from that extra upside?
Whitney George: It's a physical commodity that we believe is mispriced with the new long-term fundamentals. As the market evolves and new uranium mines need to be built, we think price discovery will make it a good investment. We do offer uranium ETFs, both senior and junior, that own companies like Cameco. Our physical uranium trust is just one way to play uranium, the same way we offer investors gold in its physical form or through mining equities, both passively and actively managed.
Amber Kanwar: This is part of your energy transition ETF suite, the uranium miners. You also have lithium, which has recently been the hot hand, especially as OEMs (original equipment manufacturers) and major car manufacturers look to secure their own lithium supply. How do you see that playing out?
Whitney George: Again, it's part of the new narrative. From just in time, to just in case, and the quantities of lithium, cobalt, nickel, copper, all those basic materials will be strained as we try to achieve the goals the world has set for decarbonization. There isn't enough supply and it's often located in unfriendly jurisdictions. We consider these materials to be essential to accomplishing the goals we have laid out for Sprott for the next 20 years.
Amber Kanwar: Whitney, thank you for joining us with this perspective.
Sign-Up Now for Sprott Insights
More Insights from Sprott
Important Disclosure
The Sprott Physical Uranium Trust is generally exposed to the multiple risks that have been identified and described in the Management Information Circular and the Prospectus. Please refer to the Management Information Circular or the Prospectus for a description of these risks.
Forward Looking Statements
This content above update contains forward-looking information within the meaning of applicable Canadian securities laws ("forward-looking statements"). Forward looking statements used include statements that assume the occurrence of certain future events. While the Trust considers these assumptions to be reasonable, these assumptions are inherently subject to significant business, economic, competitive, market and social uncertainties and contingencies. Additionally, there are known and unknown risk factors that could cause the Trust's actual results, performance or achievements to be materially different from any future results, performance or achievements expressed or implied by the forward-looking statements contained in this update. A discussion of these and other risks and uncertainties facing the Trust appears in the Trust's continuous disclosure filings, which are available at www.sedar.com. All forward-looking statements herein are qualified in their entirety by this cautionary statement, and the Trust disclaims any obligation to revise or update any such forward-looking statements or to publicly announce the result of any revisions to any of the forward-looking statements contained herein to reflect future results, events or developments, except as required by law.
Past performance is not an indication of future results. All data is in U.S. dollars unless otherwise noted. The information provided is general in nature and is provided with the understanding that it may not be relied upon as, nor considered to be tax, legal, accounting or professional advice. Readers should consult with their own accountants and/or lawyers for advice on their specific circumstances before taking any action. Sprott Asset Management LP is the investment manager to the Sprott Physical Uranium Trust (the "Trust"). Important information about the Trust, including the investment objectives and strategies, applicable management fees, and expenses, is contained in the Management Information Circular and the Prospectus. Please read the Management Information Circular and the Prospectus carefully before investing. You will usually pay brokerage fees to your dealer if you purchase or sell units of the Trusts on the Toronto Stock Exchange ("TSX"). If the units are purchased or sold on the TSX, investors may pay more than the current net asset value when buying units or shares of the Trusts and may receive less than the current net asset value when selling them. Investment funds are not guaranteed, their values change frequently and past performance may not be repeated. The information contained herein does not constitute an offer or solicitation to anyone in the United States or in any other jurisdiction in which such an offer or solicitation is not authorized or to any person to whom it is unlawful to make such an offer or solicitation. Views expressed regarding a particular company, security, industry or market sector should not be considered an indication of trading intent of any investment funds managed by Sprott Asset Management LP. These views are not to be considered as investment advice nor should they be considered a recommendation to buy or sell.