Ux Weekly Article Reprint
SPUT: One Year Later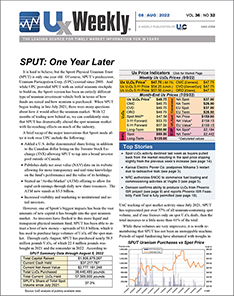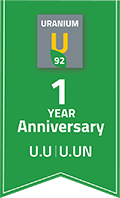 Jonathan Hinze, UxC President: "When SPUT began trading in late July 2021, there were many questions about how it would affect the uranium market. With 12 months of trading now behind us, we can confidently state that SPUT has dramatically altered the spot uranium market with far-reaching effects on much of the industry."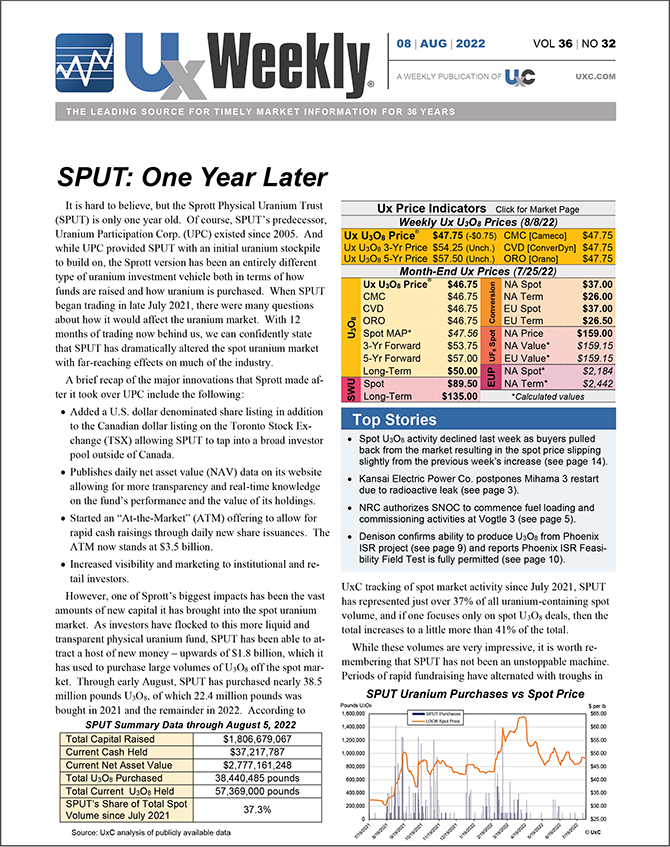 Reprinted with permission from UxC.
About UxC
UxC, LLC ("UxC") is one of the nuclear industry's leading market research and analysis companies. UxC offers a wide range of services spanning the entire nuclear fuel cycle with a special focus on market-related issues. UxC was founded in March 1994 as an affiliate of The Uranium Exchange Company ("Ux") in order to extend and provide greater focus to Ux's analytical and information services capabilities. Visit Uxc.com for more information. 
Additional Resources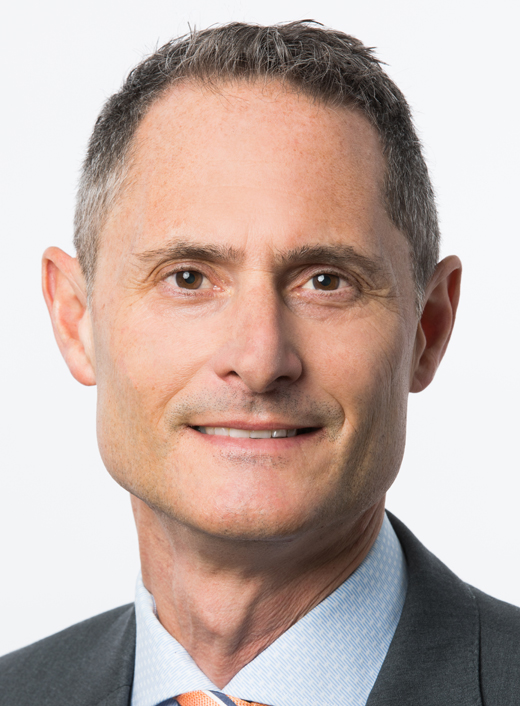 The Sprott Physical Uranium Trust ("SPUT", TSX: U.U ($US); U.UN ($CA)) was launched just over a year ago in July 2021. While we were optimistic about the prospects for uranium, we could not foresee the tectonic shifts in the uranium sector that followed the launch and SPUT's significant impact.
Read Now
Sign-Up Now for Sprott Insights
More on Uranium
Important Disclosure
The Sprott Physical Uranium Trust is generally exposed to the multiple risks that have been identified and described in the Management Information Circular and the Prospectus. Please refer to the Management Information Circular or the Prospectus for a description of these risks.
Forward Looking Statements
This content above update contains forward-looking information within the meaning of applicable Canadian securities laws ("forward-looking statements"). Forward looking statements used include statements that assume the occurrence of certain future events. While the Trust considers these assumptions to be reasonable, these assumptions are inherently subject to significant business, economic, competitive, market and social uncertainties and contingencies. Additionally, there are known and unknown risk factors that could cause the Trust's actual results, performance or achievements to be materially different from any future results, performance or achievements expressed or implied by the forward-looking statements contained in this update. A discussion of these and other risks and uncertainties facing the Trust appears in the Trust's continuous disclosure filings, which are available at www.sedar.com. All forward-looking statements herein are qualified in their entirety by this cautionary statement, and the Trust disclaims any obligation to revise or update any such forward-looking statements or to publicly announce the result of any revisions to any of the forward-looking statements contained herein to reflect future results, events or developments, except as required by law.
Past performance is not an indication of future results. All data is in U.S. dollars unless otherwise noted. The information provided is general in nature and is provided with the understanding that it may not be relied upon as, nor considered to be tax, legal, accounting or professional advice. Readers should consult with their own accountants and/or lawyers for advice on their specific circumstances before taking any action. Sprott Asset Management LP is the investment manager to the Sprott Physical Uranium Trust (the "Trust"). Important information about the Trust, including the investment objectives and strategies, applicable management fees, and expenses, is contained in the Management Information Circular and the Prospectus. Please read the Management Information Circular and the Prospectus carefully before investing. You will usually pay brokerage fees to your dealer if you purchase or sell units of the Trusts on the Toronto Stock Exchange ("TSX"). If the units are purchased or sold on the TSX, investors may pay more than the current net asset value when buying units or shares of the Trusts and may receive less than the current net asset value when selling them. Investment funds are not guaranteed, their values change frequently and past performance may not be repeated. The information contained herein does not constitute an offer or solicitation to anyone in the United States or in any other jurisdiction in which such an offer or solicitation is not authorized or to any person to whom it is unlawful to make such an offer or solicitation. Views expressed regarding a particular company, security, industry or market sector should not be considered an indication of trading intent of any investment funds managed by Sprott Asset Management LP. These views are not to be considered as investment advice nor should they be considered a recommendation to buy or sell.