Silver News Interviews CEO John Ciampaglia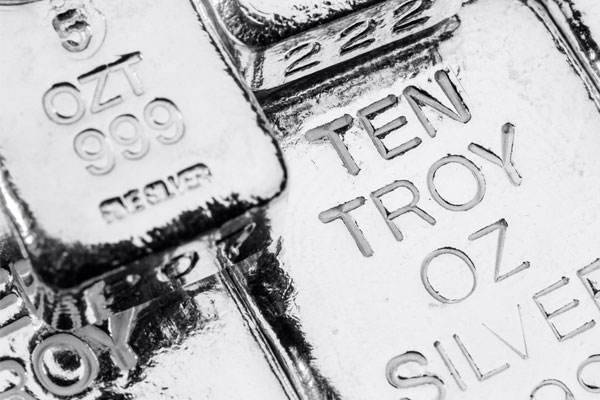 Silver News is published by The Silver Institute, a nonprofit international association that draws its membership from across the breadth of the silver industry. This includes leading silver mining houses, refiners, bullion suppliers, manufacturers of silver products and wholesalers of silver investment products. Silver News recently interviewed Sprott Asset Management CEO John Ciampaglia. 
For silver investors, Sprott offers Sprott Physical Silver Trust (NYSE Arca: PSLV) and Sprott Physical Gold and Silver Trust (NYSE Arca: CEF).
Silver News: Tell us about your involvement with Sprott, Inc.
John Ciampaglia: I have been at Sprott since early 2010. It's an exciting place to work as it's an entrepreneurial asset management shop, a boutique, we focus almost exclusively on precious metals and mining-related investments. We offer investors everything from a suite of physical bullion funds that are listed on the New York Stock Exchange, and we also invest in equity or debt of gold and silver companies. I have been in the business for 25 years and I've watched it change dramatically, especially over the last few years.
SN: How has the business changed?
JC: Investors are much more knowledgeable today than they were when I entered the business. The level of investor knowledge with respect to the general stock investing was in its early stages of development back in the early 1990s when I began. Now, investors have an incredible amount of information available to them about investment choices. There are thousands of different products they can invest in, and this has helped investors to build more diversified portfolios. It has also allowed fees in the industry to compress, as investors are more empowered than ever with information and choice.
SN: We've seen an increase in passive investing like index funds. How does that affect your business?
JC: The retail landscape over the last 10 years has gradually been following in the footsteps of the institutional world. The institutional world has long advocated using both active and passive, and public and private investment strategies. Institutions eventually migrated to exchange-traded funds (ETFs). We're seeing the same phenomena happen slowly on the retail side where many investors are taking a dual approach of combining active strategies and some passive strategies. We see investors building professionally-designed, managed portfolios.
The creation of ETFs — which are easy to buy and sell and are very convenient for investors to own — has allowed precious metals to proliferate within investment portfolios. Given the inconveniences of trying to own a large quantity of silver because of its sheer weight and volume, ETFs are a high value-added product offering for investors. The ETFs and our silver trust are valued by investors who want to get into gold or silver and do it in a simple, convenient and liquid way.
SN: How does the recent lower price of silver affect your business?
JC: The last few years have been tough for silver investors. There have generally been outflows from silver ETFs, which is one proxy we look at in terms of gauging investor demand for silver. Another barometer, U.S. Mint silver coin sales, for example, were the lowest in 2018 since 2007.
The Case for Silver
Although silver prices are range bound at about $15 today, they tend to move dramatically on the tail of gold, as we saw in 2011 and 2016. 
The gold/silver ratio has averaged 67 from 1988-2019 but currently stands at 85. This means that silver is significantly cheaper than gold, based on the historical averages.
Source: Bloomberg; Thomson Reuters Eikon. Data as of 3/15/19.
SN: The equity market has been volatile during the past year even hitting a record high. How does that affect silver ETFs?
JC: Last year, in the summer months, silver was hit hard as the stock market was rallying to all-time highs. I believe that silver got disproportionally impacted by concerns about the trade war hitting the industrial side of silver consumption. However, we see interest in silver rebounding with growing signs that central banks have been too aggressive with tightening monetary policy. We have been receiving more calls of late from all kinds of investors who are inquiring about precious metals and silver. If you're bullish about gold — and we're bullish for many reasons — I think you have to be more bullish about the price of silver going forward. As we've seen in 2010 and 2016, when gold starts to move, it's not uncharacteristic for silver to move at a multiple of two times or more.
SN: Is there anything else you would like to add?
JC: One of the things that we're often asked by U.S. investors is about the tax treatment of silver and gold. Many investors are not aware that precious metals are subject to collectibles tax which is higher than the capital gains tax rate. Sometimes investors don't know about the difference in tax treatment between different precious metals funds vehicles, so we try to educate the marketplace about that as well. We have a Tax Guide for U.S. Investors on our website if investors would like to learn more.
Silver's Biggest Use is Industrial
We believe growing silver demand is underpinned by synchronized global economic growth and an uptick in industrial demand, especially for solar photovoltaic technology.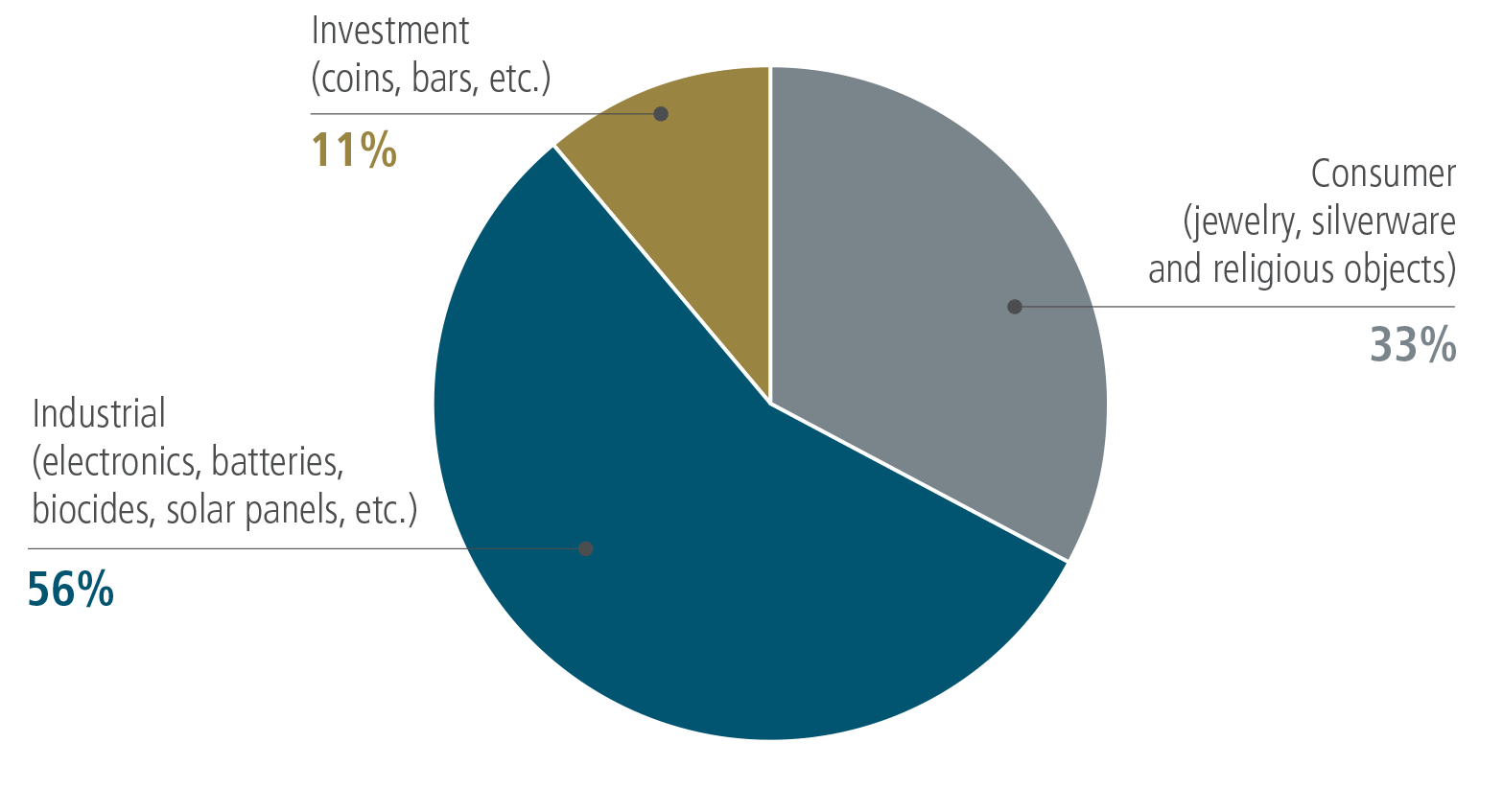 Source: CPM Group.
Sign-Up Now: 
Insights from Sprott
More on Silver
Important Disclosure
Past performance is no guarantee of future results. You cannot invest directly in an index. Investments, commentary and statements are that of the author and may not be reflective of investments and commentary in other strategies managed by Sprott Asset Management USA, Inc., Sprott Asset Management LP, Sprott Inc., or any other Sprott entity or affiliate. Opinions expressed in this commentary are those of the author and may vary widely from opinions of other Sprott affiliated Portfolio Managers or investment professionals.
This content may not be reproduced in any form, or referred to in any other publication, without acknowledgment that it was produced by Sprott Asset Management LP and a reference to sprott.com. The opinions, estimates and projections ("information") contained within this content are solely those of Sprott Asset Management LP ("SAM LP") and are subject to change without notice. SAM LP makes every effort to ensure that the information has been derived from sources believed to be reliable and accurate. However, SAM LP assumes no responsibility for any losses or damages, whether direct or indirect, which arise out of the use of this information. SAM LP is not under any obligation to update or keep current the information contained herein. The information should not be regarded by recipients as a substitute for the exercise of their own judgment. Please contact your own personal advisor on your particular circumstances. Views expressed regarding a particular company, security, industry or market sector should not be considered an indication of trading intent of any investment funds managed by Sprott Asset Management LP. These views are not to be considered as investment advice nor should they be considered a recommendation to buy or sell. SAM LP and/or its affiliates may collectively beneficially own/control 1% or more of any class of the equity securities of the issuers mentioned in this report. SAM LP and/or its affiliates may hold short position in any class of the equity securities of the issuers mentioned in this report. During the preceding 12 months, SAM LP and/or its affiliates may have received remuneration other than normal course investment advisory or trade execution services from the issuers mentioned in this report.
The information contained herein does not constitute an offer or solicitation to anyone in the United States or in any other jurisdiction in which such an offer or solicitation is not authorized or to any person to whom it is unlawful to make such an offer or solicitation. Prospective investors who are not resident in Canada or the United States should contact their financial advisor to determine whether securities of the Funds may be lawfully sold in their jurisdiction.
The information provided is general in nature and is provided with the understanding that it may not be relied upon as, nor considered to be, the rendering or tax, legal, accounting or professional advice. Readers should consult with their own accountants and/or lawyers for advice on their specific circumstances before taking any action.
© 2023 Sprott Inc. All rights reserved.