Investing in Crisis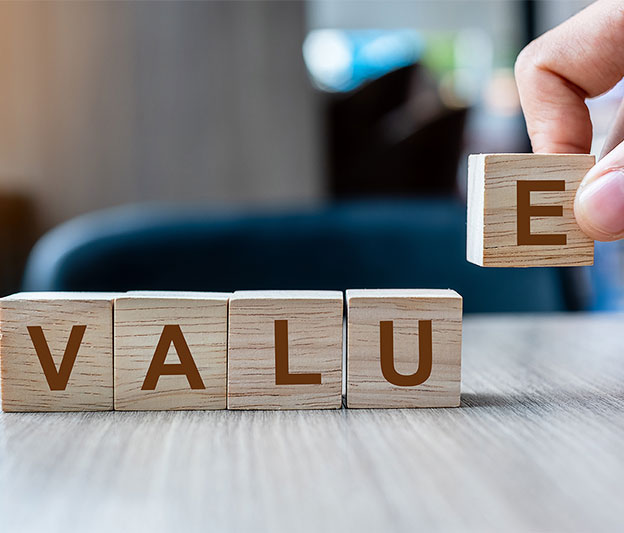 Whitney George, Chief Investment Officer: "You never know what's going to trip the market ⁠— it wasn't the trade wars, it wasn't the impeachment proceedings, it ended up being a virus. But it did deflate the debt-fueled bubble that existed in many assets globally, and as a value investor that should be your time to shine."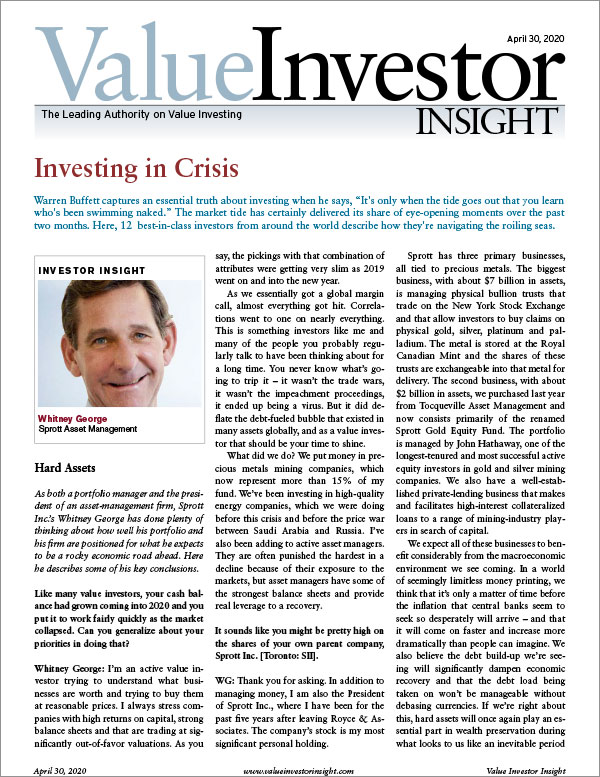 Warren Buffett captures an essential truth about investing when he says, "It's only when the tide goes out that you learn who's been swimming naked." The market tide has certainly delivered its share of eye-opening moments over the past two months.
John Heins, President and Editor-in-Chief of Value Investor Insight, interviews Sprott President Whitney George on his "value" investing approach in these challenging times.
Sign-Up Now for Sprott Insights
More Insights from Sprott
| | |
| --- | --- |
| 1 | Average Market Cap is a  weighted calculation that uses each portfolio holding's market cap in a way designed to not skew the effect of very large or small holdings; instead, it aims to better identify the portfolio's center, which Sprott believes offers a more accurate measure of average market cap than a simple mean or median. |
| 2 | Since Inception (SI) date is 11/1/1996. FUND was formerly Royce Focus Trust, from its inception to March 8, 2015 and was managed by Royce & Associaties, LLC. Effective March 9, 2015, Royce Focus Trust became Sprott Focus Trust.   |
| 3 | These returns are not annualized. |
| 4 | The Price-Earnings, or P/E, Ratio is calculated by dividing a company's share price by its trailing 12-month earnings-per-share (EPS). The Fund's P/E Ratio calculation excludes companies with zero or negative earnings (6.59% of holdings as of 9/30/2023). |
| 5 | The Price-to-Book, or P/B, Ratio is calculated by dividing a company's share price by its book value per share. This weighted calculation evaluates a portfolio as if it were a single stock and measures it overall. It compares the total market value of the portfolio to the portfolio's share in the earnings or book value, as the case may be, of its underlying stocks. |
| 6 | Return on Invested Capital (ROIC) is calculated by dividing the estimated net profit by the sum of the estimated shareholder equity and total debt of the security. |
| 7 | Leverage is calculated by dividing the estimated Total Assets by Total Equity of a security. |
The performance data quoted represents past performance. Past performance is no guarantee of future results. The investment return and the principal value of an investment will fluctuate, and shares, if redeemed, may be worth more or less than their original cost. Current performance may be lower or higher than the performance data quoted.
Sprott Focus Trust, Inc. (the "Fund") is a closed-end investment company whose shares of common stock trade on the Nasdaq Select Market. Closed-end funds, unlike open-end funds, are not continuously offered. After the initial public offering, shares of closed-end funds are sold on the open market through a stock exchange. For additional information, contact your financial advisor or call 1.203.656.2430. Investment policies, management fees and other matters of interest to prospective investors may be found in the Fund's prospectus and shareholder reports.
The Fund is a closed-end registered investment company whose shares of common stock may trade at a discount to their net asset value. Shares of the Fund's common stock are also subject to the market risks of investing in the underlying portfolio securities held by the Fund.
Russell Investment Group is the source and owner of the trademarks, service marks, and copyrights related to the Russell Indexes. Russell® is a trademark of Russell Investment Group. The Russell 3000 Total Return Index measures the performance of the largest 3,000 U.S. companies. The performance of an index does not represent exactly any particular investment, as you cannot invest directly in an index.
Sector weightings are determined using the Bloomberg Industry Classification Standard ("BICS").
NOT FDIC INSURED • MAY LOSE VALUE • NOT BANK GUARANTEED
Sprott Asset Management LP is the investment manager to the Fund. The information contained herein does not constitute an offer or solicitation by anyone in the United States or in any other jurisdiction in which such an offer or solicitation is not authorized or to any person to whom it is unlawful to make such an offer or solicitation. Prospective investors who are not resident in Canada or the United States should contact their financial advisor to determine whether securities of the Fund may be lawfully sold in their jurisdiction.
© 2023 Sprott Inc. All rights reserved.