In Gold We Trust Report 2022 - Stagflation 2.0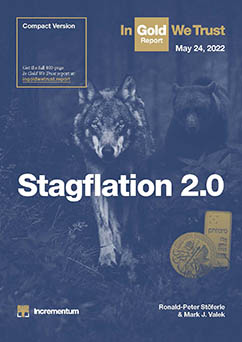 Sprott is proud to be a sponsor of Incrementum's 2022 edition of its annual In Gold We Trust report.
Key Takeaways from Incrementum
Monetary policy has its back to the wall. It is forced to at least pretend to stand up to wolfish inflation without causing a recessionary bear.
The Federal Reserve is acting late but (for now) decisively. Internationally, this is increasingly putting central banks under pressure to follow suit.
The balancing act of fighting inflation without triggering distortions on the markets may be doomed to failure. The vehemence of the tightening cycle that has begun threatens to end the Everything Bubble in an Everything Crash.
The current wave of inflation could peak this year in the wake of rising asset price deflation. However, a reversal of monetary policy could already usher in the next wave of inflation.
The price of gold has also been affected by the Federal Reserve's tightening. Even though gold is doing well relative to all other asset classes this year, further headwinds may be expected for gold in the short term.
We are sticking to our long-term price target of USD 4,800 by 2030. For the gold price to remain on track until the end of the year, it would have to rise to around USD 2,200. Provided that monetary policy departs from the announced hawkish path, we consider this to be realistic.
Ronald-Peter Stoeferle and Mark Valek, investment managers of the asset management company Incrementum AG in Liechtenstein, are the authors of the report. In Gold We Trust report is widely considered the "gold standard" in gold-related research.
Additional Resources 
Sign-Up Now for Sprott Insights
More Insights from Sprott
Important Disclosure
Past performance is no guarantee of future results. You cannot invest directly in an index. Investments, commentary and statements are that of the author and may not be reflective of investments and commentary in other strategies managed by Sprott Asset Management USA, Inc., Sprott Asset Management LP, Sprott Inc., or any other Sprott entity or affiliate. Opinions expressed in this commentary are those of the author and may vary widely from opinions of other Sprott affiliated Portfolio Managers or investment professionals.
The information contained herein does not constitute an offer or solicitation to anyone in the United States or in any other jurisdiction in which such an offer or solicitation is not authorized or to any person to whom it is unlawful to make such an offer or solicitation. Prospective investors who are not resident in Canada or the United States should contact their financial advisor to determine whether securities of the Funds may be lawfully sold in their jurisdiction.
The information provided is general in nature and is provided with the understanding that it may not be relied upon as, nor considered to be, the rendering or tax, legal, accounting or professional advice. Readers should consult with their own accountants and/or lawyers for advice on their specific circumstances before taking any action.
© 2023 Sprott Inc. All rights reserved.