SESG: Gold that Aligns with Your Values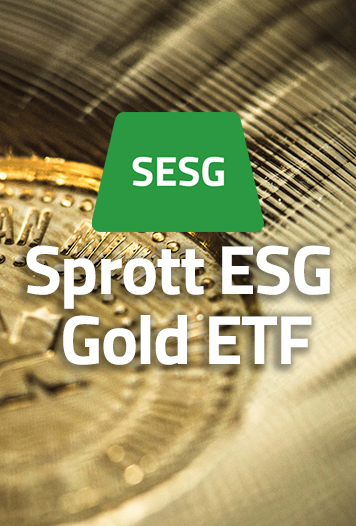 Sprott ESG Gold ETF (SESG) is the world's first ETF to exclusively source and refine gold from recognized ESG mining leaders.*
*Based on Morningstar's universe of listed commodity funds. Data as of 6/30/2022.
SESG Video Transcript
You're considering gold as part of your investment plan. You like that gold may be a safe haven asset and may help to defend your portfolio's wealth.
Values are important to you, especially when it comes to investing. Your investments must meet performance and diversification goals, while giving consideration to the health of the planet.
You are an investor helping to drive the growing demand for ESG (Environmental, Social and Governance) in all asset classes, including gold. You expect investment managers to be transparent in how they incorporate ESG into their investment decision-making process.
The Sprott ESG Gold ETF (Ticker: SESG) is the world's first Exchange Traded Fund to exclusively source and refine gold from recognized ESG mining leaders. (Based on Morningstar's universe of listed commodity funds as of June 30, 2022.)
SESG offers an investment that provides the benefits of physical gold ownership that aligns with your ESG goals and values: Sustainability, Provenance, Conflict Free, Lower Supply Chain Risks, Trusted Refining & Storage. 
SESG only holds physical gold 100% sourced from select North American producers that we believe meet the standards for "Sprott ESG Approved Gold". These gold producers are among some of the most sustainable and ESG-aligned mining companies in the world.
SESG is sponsored by one of the most trusted and experienced precious metals asset managers, Sprott Asset Management LP. SESG gold holdings will be refined and stored at the Royal Canadian Mint (RCM), a Canadian Crown Corporation founded in 1908. Sprott ESG Approved Gold will be fabricated in segregated production runs, with no co-mingling of materials from non-approved mines or recycled sources.
SESG is a convenient way for investors to own physical gold as an ESG-aligned, core component of a diversified portfolio.
Access ESG-Gold through a liquid and transparent ETF which upholds the highest ESG standards.
SESG is designed to provide Trust, Transparency and Traceability.
Please visit Sprott.com/sesg to learn more or speak to your financial advisor about SESG.
Sign-Up Now for Sprott Insights
More Videos
Important Disclosures
This presentation is intended solely for the use of Sprott Asset Management USA Inc. for use with investors and interested parties. Investments, commentary and statements are unique and may not be reflective of investments and commentary in other strategies managed by Sprott Asset Management USA, Inc., Sprott Asset Management LP, Sprott Inc., or any other Sprott entity or affiliate. Opinions expressed in this presentation are those of the presenter and may vary widely from opinions of other Sprott affiliated Portfolio Managers or investment professionals.
The intended use of this material is for information purposes only and is not intended to be an offer or solicitation for the sale of any financial product or service or a recommendation or determination that any investment strategy is suitable for a specific investor. The views are those of the speaker. Investors should seek financial advice regarding the suitability of any investment strategy based on the objectives of the investor, financial situation, investment horizon, and particular needs. This information is not intended to provide financial, tax, legal, accounting or other professional advice since such advice always requires consideration of individual circumstances. The investments discussed herein are not insured by the FDIC or any other governmental agency and are subject to risks, including a possible loss of the principal amount invested.
Sprott Asset Management USA, Inc. is the Investment Adviser of Sprott ESG Gold ETF; Sprott Global Resource Investments Ltd. is the Distributor and is a registered broker-dealer and FINRA Member.