SESG: Gold that Aligns with Your Values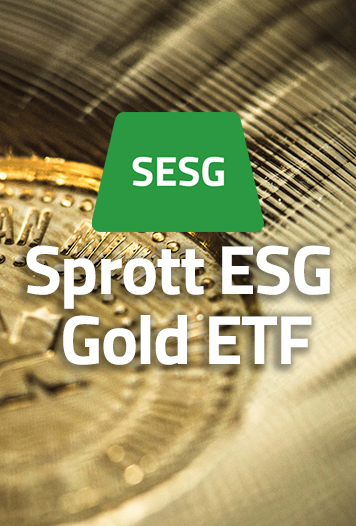 Sprott ESG Gold ETF (SESG) is the world's first ETF to exclusively source and refine gold from recognized ESG mining leaders.*
*Based on Morningstar's universe of listed commodity funds. Data as of 6/30/2022.
SESG Video Transcript
You're considering gold as part of your investment plan. You like that gold may be a safe haven asset and may help to defend your portfolio's wealth.
Values are important to you, especially when it comes to investing. Your investments must meet performance and diversification goals, while giving consideration to the health of the planet.
You are an investor helping to drive the growing demand for ESG (Environmental, Social and Governance) in all asset classes, including gold. You expect investment managers to be transparent in how they incorporate ESG into their investment decision-making process.
The Sprott ESG Gold ETF (Ticker: SESG) is the world's first Exchange Traded Fund to exclusively source and refine gold from recognized ESG mining leaders. (Based on Morningstar's universe of listed commodity funds as of June 30, 2022.)
SESG offers an investment that provides the benefits of physical gold ownership that aligns with your ESG goals and values: Sustainability, Provenance, Conflict Free, Lower Supply Chain Risks, Trusted Refining & Storage. 
SESG only holds physical gold 100% sourced from select North American producers that we believe meet the standards for "Sprott ESG Approved Gold". These gold producers are among some of the most sustainable and ESG-aligned mining companies in the world.
SESG is sponsored by one of the most trusted and experienced precious metals asset managers, Sprott Asset Management LP. SESG gold holdings will be refined and stored at the Royal Canadian Mint (RCM), a Canadian Crown Corporation founded in 1908. Sprott ESG Approved Gold will be fabricated in segregated production runs, with no co-mingling of materials from non-approved mines or recycled sources.
SESG is a convenient way for investors to own physical gold as an ESG-aligned, core component of a diversified portfolio.
Access ESG-Gold through a liquid and transparent ETF which upholds the highest ESG standards.
SESG is designed to provide Trust, Transparency and Traceability.
Please visit Sprott.com/sesg to learn more or speak to your financial advisor about SESG.
Sign-Up Now: 
Insights from Sprott
More Videos
Important Disclosures
This material must be preceded or accompanied by a prospectus. For an additional copy of the Sprott ESG Gold ETF Prospectus, please visit https://sprott.com/sesg/prospectus. An investor should consider the investment objectives, risks, charges and expenses carefully before investing. To obtain a Sprott ESG Gold ETF Statutory Prospectus, which contains this and other information, visit https://sprott.com/sesg/prospectus, or contact your financial professional or call 888.622.1813. Read the Prospectus carefully before investing.
There is currently no internationally accepted standard determining under what circumstances gold can be determined to be ESG. The Fund is not suitable for all investors. There are risks involved with investing in ETFs including the loss of money. The term "Sprott ESG Approved Gold" refers to gold that is physically indistinguishable from other gold but that has been sourced and produced in a manner consistent with the ESG standards and criteria used by the Sponsor (the "ESG Criteria"), which are designed to provide investors with an enhanced level of ESG scrutiny along with disclosure of the provenance of the metal sourced and include an evaluation of mining companies and mines. Mining companies and mines that meet the ESG Criteria ("Sprott ESG Approved Mining Companies" and "Sprott ESG Approved Mines", respectively) must also comply with the Mint Responsible Sourcing Requirements.
The Fund's investments will be concentrated in the gold industry. As a result, the Fund will be sensitive to changes in, and its performance will depend to a greater extent on, the overall condition of the gold industry. The price of gold may be affected by changes in inflation rates, interest rates, monetary policy, economic conditions, and political stability. The price of gold may fluctuate substantially over short periods of time; therefore, the Fund's share price may be more volatile than other types of investments. In addition, they may also be significantly affected by political and economic conditions in gold producing and consuming countries, and gold production levels and costs of production.
The indicated rates of return are the historical annual compounded total returns including changes in share value and reinvestment of all distributions and do not take into account sales, redemption, distribution or operational charges or income taxes payable by any shareholder that would have reduced returns. You will usually pay brokerage fees to your dealer if you purchase or sell shares of the Trusts on the NYSE Arca, Inc. ("Arca"). If the shares are purchased or sold on Arca, investors may pay more than the current net asset value when buying shares of the Trust and may receive less than the current net asset value when selling them. Investment funds are not guaranteed, their values change frequently and past performance may not be repeated.
Shares are not individually redeemable. Investors buy and sell shares of the Sprott ESG Gold ETF on a secondary market. Only market makers or "authorized participants" may trade directly with the Fund, typically in blocks of 50,000 shares. Past performance is not an indication of future results. 
Sprott Asset Management USA, Inc. is the Investment Adviser of Sprott ESG Gold ETF; Sprott Global Resource Investments Ltd. is the Distributor and is a registered broker-dealer and FINRA Member.